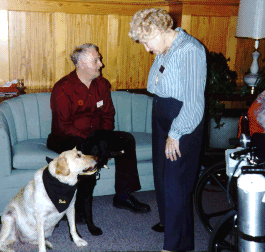 there are studies showing that elderly people stroking a pet experience a decrease in blood pressure. it is also noted that Autistic children become calmer in the presence of dogs.
pet therapy requires special volunteers and special dogs. teams are rigorously screened for suitability, and are conditioned to the situations they will experience.
volunteers often report that they get a lot of joy from participating in the visitation programs. they "get back what they put in".
willowrose is proud to have three registered Therapy Dogs.